Venice Under Water
Histographer
One who describes organic tissues; an histologist
Histologist
Anatomist who specializes in the microscopic study of animal tissues
Historiographer
1. A specialist in historiography
2. A historian, especially one designated by a group or public institution
3. A person who is an authority on history of some institution, country, etc. and who studies it and writes about it
4. Etymology: 15th century Middle French historiographeur, from Late Latin historiographus, from Greek historiographos, from historia + graphein, to write
As a fan of all things Venice, I started calling myself a Venice Histographer based on my particular interest in historic photos of Venice. Articles about Venice. Movies shot in Venice. Anything and everything Venice.
But I should rightly refer to myself as an Historiographer. Especially the "graph" part, meaning anything visual. Not some bonehead describing organ tissues. [No offense intended.] Just wanted to set things straight. So now that that's settled, I'll explain why this came about.
During a recent discussion with some local friends at the Farmer's Market, I found out that another neighbor claimed to have some old photos of Rialto Avenue under water. I just had to see them!
I was able to meet up with Tom Walker, who'd lived on Rialto in the mid-50s, now resides on Superba, and had the photos. Yes, indeed, water up to the tire tops, a boat gliding by. Way cool. I was impressed.
And those images brought to mind a couple other Venice flood photos I'd gathered in the past. I asked Tom when he thought these photos had been taken. He responded, "I lived at 504 from 1955 to 1960. From 6 to 12 years in age. I think the flood happened in either 1955 or 1956." I knew that another photo I had showed a view of a swamped Abbot Kinney Blvd., dated 1954. And another was a newsphoto showing an aerial photo of "Venice reverting to its former state, representative of all Southland lowlands in the path of the flood." Penciled in was 3/38. So now I really had to find out more, if at least for Tom's sake.
3-3-38
VENICE TURNED INTO LAKE; HUNDREDS LEAVE HOMES
"Nature in an angry mood yesterday made Venice a place of desolate canals over which boatmen wound their way on missions of rescue to thousands of flood-trapped residents.
The boatmen — mostly lifeguards of the city playground department — rescued men, women and children who no longer felt safe in their swamped homes.
Refugees were taken to relief stations set up by the Red Cross, the Salvation Army and the police department. In each of these stations they were given changes of clothing, food and then provided with shelter, either by arranging their transportation to homes of friends and relatives or by furnishing it in near-by hotels and apartment-houses.
Some 800 men, women and children went through this evacuation process between the early hours of yesterday and the late evening. The evacuations in all cases were made voluntarily.
Every department of the Salvation Army has been commandeered to serve flood sufferers in Venice and Inglewood, which are among the hardest hit by the floodwaters.
Officials estimated that 1500 homes in Los Angeles county, including 250 in Venice, were rendered uninhabitable by the recent floodwaters. Many of these, however, they said, can be repaired.
Clothing, bedding, shoes, furniture and all other necessaries have been made available to those who have been rendered homeless. The entire trucking equipment of the Southern California department has been placed at the disposal of sufferers.
Brig. Sturm asks that the public go to the rescue of the social-service department of the Salvationists, in providing articles of wearing apparel, as well as furniture, to replace that which has been ruined in the floods.
At Venice work has been going on for twenty-four hours. Adjt. Frank Gartrell, officer in command, has turned his hall and equipment into a relief station and is providing for all families from the lowlands.
The area actually under water is estimated by Venice police as eight square miles. It began at Trolley Way and went south to Venice Boulevard and north to Brooks Avenue. From Venice Boulevard it extended south to Mildred Avenue, then east to Washington Street (Abbot Kinney today) and south again to Strong Drive and then west (?) to Lincoln Boulevard, which was under water from Rose Street to Broadway.
The police department had fifty men on duty in the area, while seventy-five regular and volunteer lifeguards were at work.
Venice, once a real estate development laid out with canals in imitation of the Venice of Italy, looked yesterday more like a huge lake with thousands of rooftops above it, than a system of canals.
Water rose above the level of the floors of most of the homes, but in nearly all of them the occupants were able to keep the water out by placing sandbags across their doors. Boatmen plying up and down the streets, however, found two or three in each block where the floor level was too low and the water had floated the furniture inside.
From the corner of Windward Avenue and Main Street thousands of anxious citizens watched boats come into the "shore" loaded with refugees who were taken away mostly in private automobiles. The sick were taken by an ambulance operated by the city playground's lifeguard service to hospitals.
Hundreds of automobiles, apparently "safely" parked on Tuesday evening, were caught by the rising waters. At Windward Avenue and Andalusia Street several were all but submerged.
Service over several major lines of the Pacific Electric Railway was impeded considerably and in some instances canceled yesterday as high water cut off schedules to outlying areas. High water, felled trees, stalled autos and debris forced delays on many of the lines.
On the Venice Short Line the service extended only as far as Culver City. Venice was being served by the line through Beverly Hills."
All this from the L.A. Times. And their research facilties. I found another aerial photo by the same Leon Miller, with the simple caption "Floodwaters flow slowly through the streets of Venice to meet the Pacific." Another photo of the traffic circle, realized once again as the lagoon, the old gas station an island in iself. Water off into the far east distance.
Now then, 1954. The headline for the day...
2-15-54
L.A. GETS 2.90-INCH DRENCHING
"The one-day storm that left 2.90 inches of rain in Los Angeles Saturday, flooding many low-lying communities, ended after bringing light to heavy showers in some areas.
The totals for Los Angeles show 8.69 inches for the season's rainfall against a normal reading of 8.94, and 7.65 recorded at this time last year.
Streets and boulevards were torrents. Slides blocked highways. Thousands of cars stalled and at least two occupants swam for their lives.
Thousands of police and volunteer workers were called out. The Red Cross sent out a disaster alert and helped evacuate scores of families in Venice.
In Venice alone, police said more than 700 houses were flooded. A lifeguard who helped with rescues said, "I looked into one house and all I could see was the top of the television set."
In Venice, too, water crept into the lobby of a theater holding a kid matinee. More than 100 children were taken away in rowboats."
Could be Tom's storm, but not quite. He initially told me, "At that time, my sister Susan was 10 and my sister Linda was 13. Susan was the one who walked to Westminster school and came home in a rowboat." And this one was a Saturday storm.
1-26-56
STEADY RAIN POUNDS SOUTHLAND
"Steady rain, driven by gusty winds, swept into Southern California before dawn yesterday and continued last night to bring Los Angeles a drought-breaking 1.84 inches by 2 a.m.
Low-lying areas of the county were once again flooded to varying depths as showers fell steadily throughout Wednesday.
Traffic officers established a map in the Police Building last night to chart flooded streets and intersections to help in controlling traffic in low sections of the city.
Shopkeepers sandbagged entryways in some districts where rain waters sloshed over curbs and across sidewalks. Some light flooding was reported in the West Los Angeles area.
Another storm lying off the Oregon coast is stationary, but may move in this direction to bring additional precipitation later in the week. Intermittent showers are expected this afternoon and tomorrow."
Not too bad. But wait.
1-27-56
NEAR-RECORD RAINFALL OF 7.50 INCHES HITS L.A.
"Relentless rain unexpectedly pounded Los Angeles steadily throughout Thursday and flooded vast sections of the county with rising waters that forced families from homes, stalled countless cars and curtailed business and industry and slowed traffic to a drenched crawl.
The downpour brought the storm total since 6 a.m. Wednesday to 7.50 inches at midnight. This makes the season's reading 10.41 as compared with 6.64 on the same date last year and a normal of 6.91.
When the Weather Bureau's rain gauge read 6.05 inches at 3 p.m. yesterday it marked the third heaviest 24-hour fall in Southern California history.
The mark was eclipsed only by the 7.36 inches which fell on Dec. 31- Jan. 1, 1934, and the 6.28 inches on March 1-2, 1938.
While families were returning to inundated houses in some sections, flood control authorities kept a worried eye on the turbulent Los Angeles River channel, which continued to run brim full.
A tumbling, silt-filled torrent chewed its way behind the concrete facing of the channel and eroded much of the earthen bank before its flow was lessened and hastily dumped rock fill bolstered the levee.
Despite the heavy precipitation and deep water, there were no reports of drowning or serious injury due to the widespread flooding.
Trucks and boats were used to rescue hundreds of women and children marooned in flooded homes.
Hundreds of automobiles were abandoned in streets turned to rivers and scores of motorists were rescued from the tops of marooned cars.
All Los Angeles city schools and most schools in the county were closed at noon or earlier and tens of thousands of school children were driven home < or rowed in Venice > by parents. Decision whether or not schools will open today is to be made at 5 a.m., school officials said.
Many < industries sent workers home early > and closed plants down as the rain continued almost without stop.
Mud and debris lined most streets, adding to the hazardous conditions. At the height of the early morning traffic rush, Lincoln Blvd. was closed for more than three miles between Manchester and Washington Blvd.
The Red Cross said each of its shelters was equipped with old-fashioned, high-wheel Army trucks to use in swamping through flooded streets to reach marooned families, and the Coast Guard placed boats at the agencies' disposal for rescue work in waters too deep for trucks.
In Venice, < lifeguards requisitioned 17 skiffs > from a Santa Monica rental agency to help marooned families from homes in many areas.
C.P.L. Nichols, superintendent of lifeguards at Venice, estimated late yesterday afternoon that 250 families had been evacuated from homes in the Venice area.
An emergency station was established by the Red Cross and the Salvation Army in the gymnasium of Venice School. Information concerning whereabouts of evacuated families in Venice could be obtained from the registration lists at the emergency station by telephoning Exbrook 85781, Nichols said."
This was it! Definitely Tom's storm. The rowing in Venice, the workers sent home early, the lifeguards requisitioning skiffs. These all fit with the photos and Tom's story.
Just another storm to dunk Venice. But, did they mention January 1st, 1934? I had to look, and guess what, here's what I found...
1-1-34
VENICE AREA FLOOD DRIVES THOUSANDS FROM HOMES
"Hundreds of families in the Venice area of the Santa Monica Bay district were made homeless Sunday and early today when they were forced to abandon their homes, many of them flooded and others made unsafe by the torrential rains of the past thirty-six hours.
No deaths from drowning were reported and no serious accidents occurred, according to the police and life-guard rescue squads.
Between 1200 and 1800 homes were known to be under water at 4 o'clock this afternoon.
The families forced to abandon their homes were removed in lifeboats, canoes and row boats manned by police, life guards and volunteers. Shelter was provided for them at Sunset Pier, where cots, blankets and hot coffee were furnished by the City Playground department. The Welfare Association of West Los Angeles, under the direction of Mrs. Ghita Vaughn, Venice policewoman, arranged with a score of restaurants and eating houses to provide meals to the refugees, many of whom suffered from exposure.
In the district south of Venice Boulevard running to the Del Rey lagoon and from South Trolleyway east to Lincoln and Washington boulevards, Venice police and rescue squads estimated that between 600 and 800 homes were inundated by the waters which blanketed an area of four square miles.
From Lincoln Boulevard to Electric Avenue and Washington Boulevard, an area of more than one-half mile in width, was under water. The flood waters averaged from one to three feet deep. It was estimated, officially, that between 400 and 600 homes in this area had been abandoned.
When the downpour continued, Capt. Anthony Collins of the Venice police sent out a call to the Los Angeles authorities for fifty additional policemen to assist his force of sixty-five men. Life guards and owners of small boats immediately were pressed into service and rescue work was begun under the personal direction of Capt. Collins.
A patrol service immediately was established.
Early this evening, police reported that the waters in the flooded areas of Venice were receding and unless a new storm commenced, the stricken areas will be free of water within twenty-four hours."
It seems like Venice was almost always hardest hit by these raging storms. Even areas around today's Penmar Park area was known to frequently flood. According to resident Mark Lewis, "the reason Lake St. was named 'Lake St.' was that every year when it rained hard the area that is the golf course and Penmar Park and adjacent Lake Street would flood significantly." Thus the name. And it still happens today. He also told me "that in particular the golf course was really just a swamp. My 93 year old neighbor Mrs. Peet told me how much fun her kids had playing in the swamp and catching frogs." This was back in the late 1940s, before the area became a subdivision that was built in 1949.
And a few years later, in 1954, Tom Walker's family moved to Venice. According to him,"my father's name was Edward Walker, a welder by profession. My mother, Hilda was also president of the PTA at Westminster school at one time. He moved to Venice in the early part of 1954 from Methuen, Massachusetts, and found work at the Douglas Aircraft plant on Ocean Park Blvd. in Santa Monica. The rest of the family moved here (Clubhouse Ave) in the summer of 1954. We moved to 504 Rialto approximately 6 months later. The market across the street (House of Davenport) is where the local kids bought penny candy, candy bars (5 cents for a Milky Way), sodas (back east we called them tonic), cupcakes, etc. I spent most of my allowance (10 cents a day) there." And the day of the flooded street brought his father home from work early, to pick up his daughter from Westminster School in a row boat. And no candies. Thursday, January 26, 1956.
Following are the images I'm proud to display as a historiographer, of Venice under water.
3-2-1938

SCENE TYPICAL OF INUNDATED SOUTHLAND

Venice, which used to be a city of waterways, reverted to its former state, only more so, as a result of the Southland's record deluge. This picture is representative of all Southern California lowlands in the path of the flood.

Leon Miller aerial photo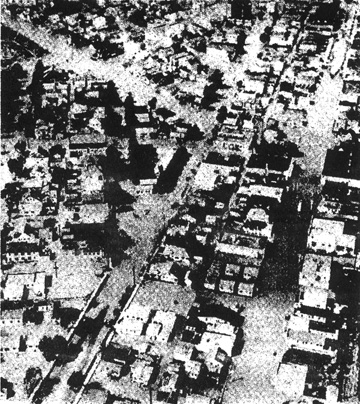 3-2-1938

Floodwaters flow slowly through the streets of Venice to meet the Pacific.

Leon Miller aerial photo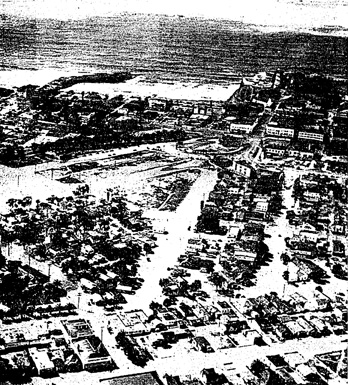 3-1938

The submerged traffic circle and Grand Boulevard looking east from the site of the current Post Office.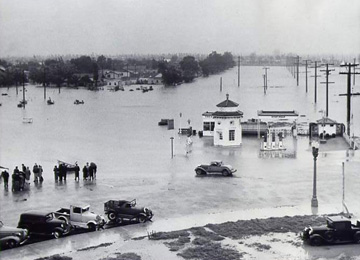 3-1938

Left is a section of the flooded area in Venice with lifeguards taking children from homes in a dory and rowing them to dry ground so that they might attend school.

Wide World photo.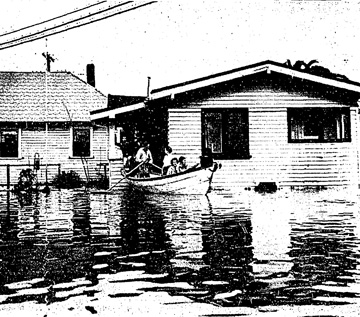 Abbot Kinney Blvd. 1954

This old Xerox shows the market at California Avenue, and the slogging autos on February 13 of that year.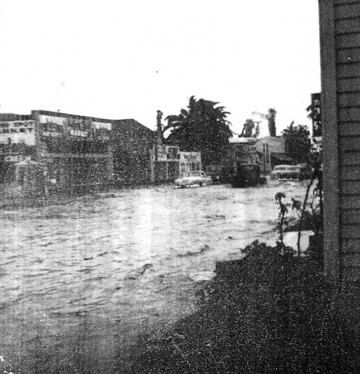 1-26-1956

A submerged Venice is waist-deep in rain water.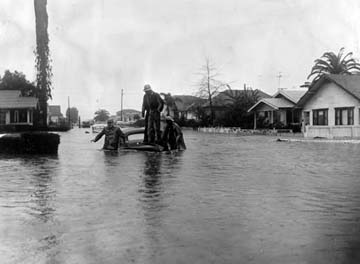 1-26-1956

A boat traversing Rialto Avenue during the great January storm. It's heading west toward the intersection of Andalusia.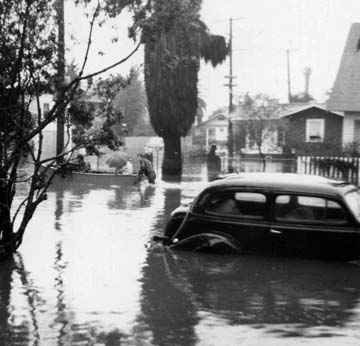 1-26-1956

The Walker family car sits half-submerged in front of 504 Rialto Avenue.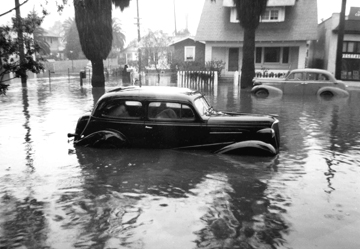 1-26-1956

The Walker family — Hilda, Tom, Susan and Edward — in front of their home at 504 Rialto, during drier times.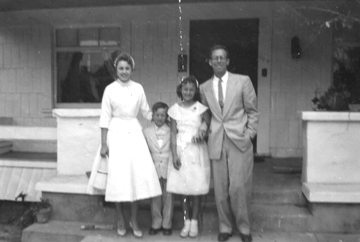 1-27-1956

RESCUE BY BOAT

National Guardsmen shown with evacuees in boat yesterday. During flood hundreds were forced to flee homes.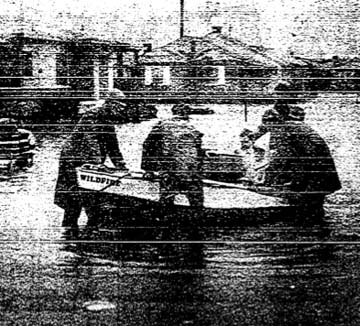 1-26-1956

The House of Davenport, the market across from Tom's house. Still recognizable today.