Way Off Track
My favorite restaurant in Venice is the Baja Cantina, serving authentic Oaxacan salsas and the best chips around. A local favorite for over 29 years, it is the place to go to for the best, freshest Mexican food, and margaritas, ever. In my humble opinion.
My favorite booth is inside, around the corner to the left, the one for four or more folks, featuring some posters from the Culver City Speedway.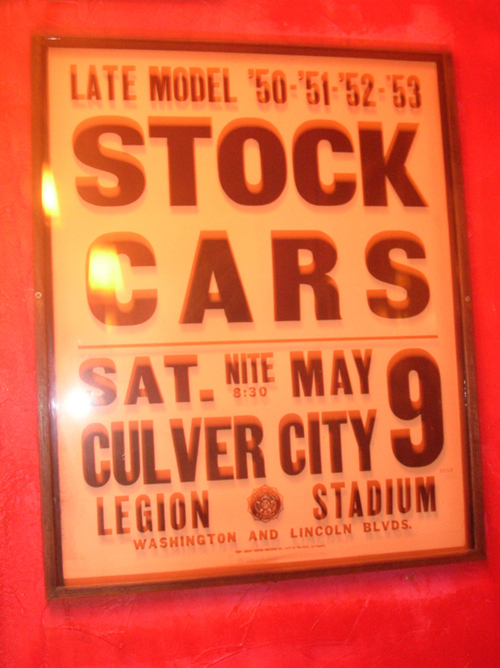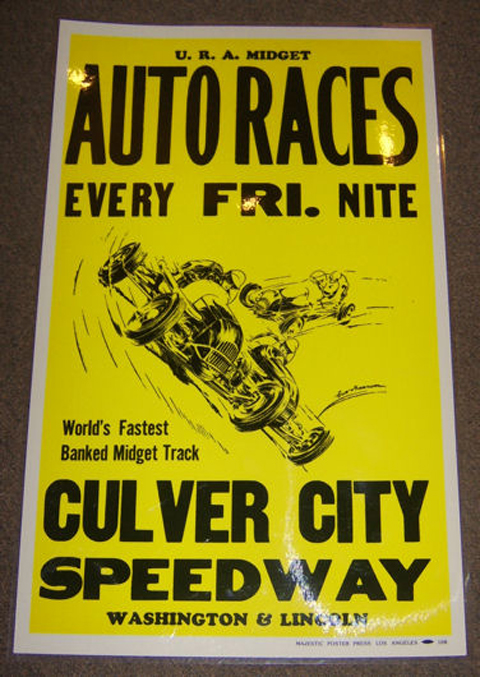 Now, you must consider that I came from Indiana, home of the Indy 500, and dirt tracks and Saturday night contests at our local Illiana Speedway, where "late-model" cars would race for peanuts, and pride, and it seemed like I was cavorting with the hill-people, or at least grease-monkeys, and it was real, baby, and it was down and dirty. Thanks to my father, who led our family to these auto events, as well as befriending his neighbor who ran a used-car lot and also mechaniced on racers at the 500, this auto racing fever was ingrained in my blood from the earliest age I can remember.
But back to the Baja. One prominent poster always caught my eye. "Late Model Stock Cars Saturday May 9th Culver City Speedway." Along side "Culver City Speedway ROAD RACE Sunday Oct. 26, 8 PM." My gosh, what was there, and what did I miss? The collection of racing photos from the Baja must have held some clues.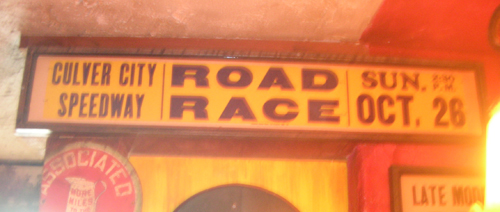 And then I found these remembrances in the Argonaut.
"About 75 years ago, there was an amusement park in either Culver City or Los Angeles near the intersection of Lincoln and Washington Boulevards. It was a fun park for driving your car over large hills. It was east of Lincoln and on the north side of Washington. I remember the black cars and that may help date it. The hills were mounds of earth, about 40 feet high, and there were at least two of them. I have never seen any pictures of the place or read any history of it. Maybe someone has some recollection about it, or possibly a photograph." - Norman Burmeister, Westchester 5-19-05
"Does anyone remember the Culver City Race Track on Washington Boulevard? My husband and others raced jalopies (old run-down cars) and late-model "stock cars" (the family auto) on the weekends. In later years, Hughes Helicopters and a swap meet occupied the site. Today, businesses such as Costco and Albertsons are there." - Helen Dyess, Venice 4-29-06
Well, Norman and Helen, I'm here to help you out. After a bit of research, and pining that I wasn't there to actually experience these days of daring-do and dirt-track devilry, I've come up with the answers to some of your questions.
This second Culver City race track is not to be confused with the old board racing track - remember them? - in downtown, bounded by Braddock, Le Bourget, Motor Avenue and Farragut Drive, now Carlson Park, and called the "Speedway," which was moved from Beverly Hills, as discussed previously. The track in question was located at the western edge of the city. It later became the McDonnell Douglas helicopter plant, and later the headquarters for the 1984 Olympics.
Originally, this track was built for greyhound races. What? That parcel was used for dog races? What?? Yes, many speculate that that west end annexation to Culver City in the mid 1920s was intended to include the revenue from its pari-mutuel betting availability. But I believe it was also possibly due to the open secret that there were speakeasys in the back rooms of the many hotsy-totsy clubs along Washington Boulevard's 'Cabaret Row,' just east of Venice in Culver City. I don't know which of the numerous clubs were closest to Venice, but I do know there were over 25 possibilities along that stretch of "boonie" road during those years.
Remember, these were the Prohibition years, which lasted until December 5, 1933, so anything was possible in these wild-tag days. But according to records, it was not until March 8, 1932 that the Culver City Kennel Club was granted a permit and license for "canine racing, coursing with canine sales and exhibits." What a bunch of official nonsense-talk.
State anti-gambling legislation ultimately closed the track, probably due to this prohibitive, official reaction to the good times being had by those peoples who might want to partake once and a while, and maybe lay some bets on the dogs. Ultimately, the Citizen newspaper headlines on February 8, 1935, post-Prohibition, read, "Dog Racing Bill Pondered." It offered the reopening of the Culver City Dog Race Track as a possibility because a bill introduced by Assemblyman Malone would legalize dog racing in California. It also reported that the track had been closed for two years. Since probably early-Spring of '33, during the end of Prohibition. Now was the time to race!
But what a sloppy history for this early track, in opposition to the regal history of the "dogs" that were racing. Did you know that in Ancient Egypt, the ancestors of modern greyhounds were used in hunting and kept as companions? When the pet hound died, the Egyptian family would go into mourning. The walls of Egyptian tombs often were decorated with images of their hounds. The pharaohs, too, kept greyhound-type dogs among their hunting animals.
Or during the Middle Ages, greyhounds became nearly extinct during times of famine? On-line research revealed that they were saved by clergymen who protected them and bred them for the nobility. Hunting in Europe and Asia with specially bred and trained dogs was the sport of nobles and the high clergy, in large part because they owned or controlled much of the land suitable for hunting. Ultimately, the greyhound is the first breed of dog mentioned in English literature, in Chaucer's 14th century Canterbury Tales.
Greyhounds were imported to America from Ireland and England in the mid-1800s not to course or race, strangely enough, but to rid Midwest farms of an epidemic of jackrabbits. The greyhound soon became a familiar sight on farms in Kansas, Missouri, Oklahoma, and Texas. Americans soon discovered that greyhounds could also become a source of sport. One of the first national coursing meets, the sport of pursuing game with dogs that follow by sight rather than by scent, was held in Kansas in 1886.
Interestingly, the US cavalry used greyhounds as scouts, since the greyhounds were fast enough to keep up with the horses. General George Custer reportedly owned 14 coursing greyhounds, which he coursed the night before the battle of Little Big Horn.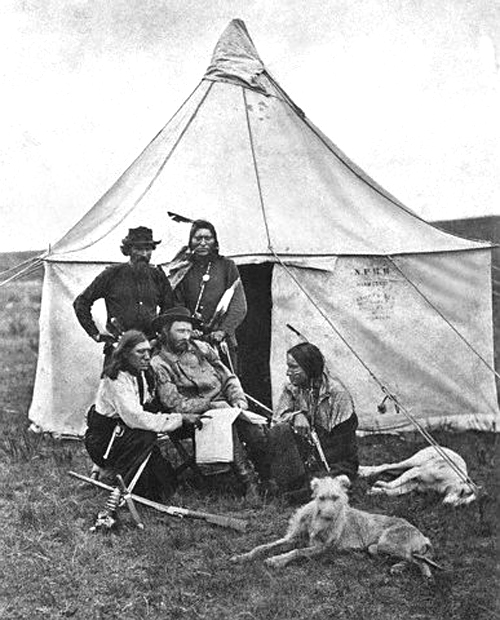 And then, in 1921, Owen Patrick Smith invented the mechanical lure. With a white bag as enticement, the lure was pulled by a line running along a series of pulleys in a large field, mimicking the erratic movements of a wild hare, which drove the dogs nuts. They just had to catch it. He opened the first greyhound track, circular in shape, in Tulsa, Oklahoma. Florida became the U.S. capital of the sport after dog racing was introduced there in 1922. Greyhound racing became o ne of the most popular spectator sports in America.
Like in 1935 and the track in West Culver City. Somehow though, the popularity faded, and in the 1940s, that location ultimately became the home of midget auto, open-wheel car, and some trophy-dash stuff with modified stock cars races. The former dog track was enlarged, banked and paved in 1947 during the height of the midget racing boom. Hence the posters at the Baja, with one dated from 1953, and my concomitant interest. However, there is documentation of races being held on a 1/5 mile dirt oval in 1933, the same summer of the ill-fated dog track, and maybe racing in 1941.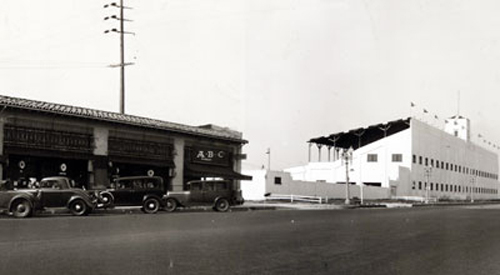 Another source relates that the track was built in the late-40s and lasted about 10 years, as a dirt track. I happen to agree with this version, based on recently viewing the movie from 1949 "The Big Wheel," which featured the Culver City track, seemingly unpaved, in all it's Hollywo od glory. It even got its name mentioned in titles. How cool is that?
So it's understood that the track became a permanent auto racing facility for the 1947 racing season. Midget racing was the featured division there, and as midget racing's popularity began to weaken, tracks began to compete for the racing fan's dollar. In 1949, the track owners made a 1/2 mile paved road course using part of the oval, and part of the parking lot. The road course included a hill, that actually crossed over the track so the cars crossed over and under one another at one point. A traditional figure eight.

Allen Brown lists three tracks named "Culver City Speedway" in his book, 'The History of America's Speedways.' The track featured in "The Big Wheel" operated as a 1/4 mile high banked paved - I doubt this fact! - oval (3/30/47 - 10/04/54). There was also a 1/2 dirt/paved road course that used part of the oval track (10/19/47 & 10/26/47). The parking lot was used as a 1/2 mile paved road course (2/27/49 & 3/20/49). A 1/4 mile dirt oval was operated during 1951 and 1956. I feel a bit whoozy after all this information, but, ultimately, it's what we're looking for, and that's why I'm here.
Local businessman George Newnam had his midget debut there in 1950. Mr. Newnam, in a 1990 interview, related that the track was later used for jalopies and was a motocross speedway. This is probably the version that Norman Burmeister of Westchester remembers. There ya go, Norman.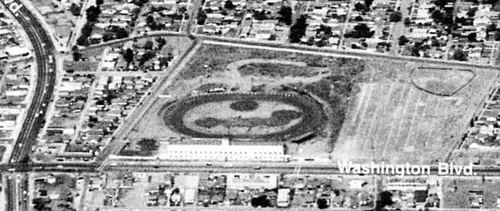 Also a part of the Speedway's history was Dick Lane, who kicked around Hollywood during the 1930s and '40s and played a few bit parts in pictures before he landed the TV announcing job he held for many years at KTLA, Channel 5. Many would remember Dick Lane, the mild-mannered sports announcer who once interviewed then-wrestling legend Fred Blassie, live, on-air, while being dangled by his ankles out the window of the locker room of the venerable Olympic Auditorium20in downtown Los Angeles, for advertising jalopies as "Old Leatherbritches" on Channel 5, from the track.
KTLA's genesis actually dates back to 1939 when Paramount Pictures started KTLA as experimental station W6XYZ under the guidance of television pioneer Klaus Landsberg. Eight years later, on January 22, 1947, KTLA went on the air as the first commercially-licensed station west of the Mississippi. Commercial television had finally arrived in Los Angeles. There were approximately 350 television sets in all of Los Angeles at the time, when Bob Hope signed KTLA on the air with a special program, the "Western Premiere of Commercial Television." Originating from a small garage on the Paramount Studios movie lot, it boasted stars such as Cecil B. DeMille, Dorothy Lamour, Jerry Colonna, William Demarest, William Bendix, Dick Lane - there he was! -and Mike Douglas, among others.
On a side note, on August 7, 1948, KTLA was the first to present "Hopalong Cassidy," which soon became a national television phenomenon. And on May 18, 1951, KTLA introduced the world to Lawrence Welk, live from the Aragon Ballroom in Ocean Park.
And yes, back in the 50's to early 60's, a short track racing show appeared on TV screens all across America. It was called "Jalopy Races from Hollywood." Filmed at the Culver City Speedway in glorious black and white, it was hosted by the old time announcer Bill Welch.
Some of the stars at the 1/4 mile Culver City dirt track were the cigar smoking, grinning "Termite" Snyder and Scotty Cain, always referred to on the broadcasts as the "Pecks Bad Boy" of the Speedway.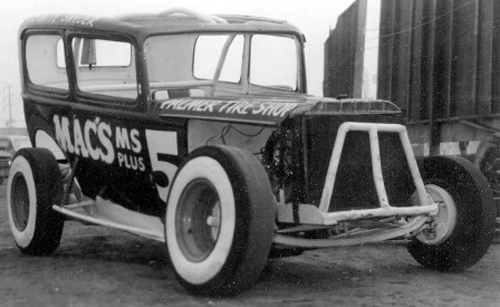 They packed a lot into the half hour. A little racing, a little personality and the always popular "Crackup of the Week" segment. Sort of fixated on crashes and wrecks, when Bill Welsh did his opening he al ways ended it with - "and the ambulance is standing by, just in case."
Land values, and encroaching home development ultimately spelled doom for this section of the populating section of Culver City, and the track property was sold. City records show the last car entry there as Auction City. The track was torn down in 1954, and became the site of warehouses and an industrial plant for McDonnell Douglas. And now, again, Costco.
So now, when you're in line at In-And-Out Burgers, you're right where the old announcing booth was. And if you're waiting to get into the front door at Costco, you're standing smack dab at the end of turn 2, leading into the old back straightaway. Or if you're coming out of their gas station, that's right were the old grandstand stood. You can probably still smell the smells of the old speedway today.